| | | |
| --- | --- | --- |
| Heat Exchanger Repair | | Repair Services Offered |
| Southern Heat Exchanger Services (SHECO Services) is subsidiary of Southern Heat Exchanger Corporation (SHECO) of Tuscaloosa, Alabama. Established in 2003 to meet the growing service and repair needs of the heat exchanger industry, SHECO Services has quickly established a loyal customer base with its experience and responsiveness. | | Our shop is equipped to handle work of virtually any size and type, from pipe size shell and tube units to feedwater heaters to fin fan units, SHECO Services has successfully repaired them all. |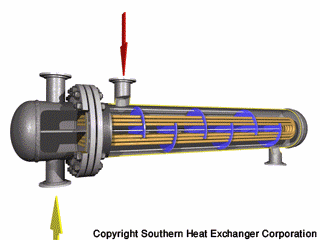 Equipped with a horizontal cut-off saw with an 84" throat, 100,000 pounds of in-house lift capacity and all the machining, welding and support equipment it needs, SHECO Services can repair virtually any heat exchanger. Its staff has over 200 years of combined heat exchanger repair experience. In addition they have the full support of their parent, Southern Heat Exchanger in Tuscaloosa with its 2 plants, engineering staff and 45 plus years in the heat exchanger business.
Certified Heat Exchanger Repair Services

We are certified to use ASME Code Stamp "U".

We are certified to use ASME Code Stamp "S" for work on Power Boilers.

We are also certified to use the National Board "R" Stamp for the repair and/or alteration of boilers, pressure vessels, and other pressure-retaining items.


Our memberships include The Tubular Exchanger Manufacturers Association, Inc. (TEMA) and Heat Transfer Research, Inc. (HTRI).



Send us an online inquiry for a quote on your next heat exchanger.
4206 Fidelity Street Houston, TX 77029| Phone: 713.475.8500 | Fax: 713.475.8507